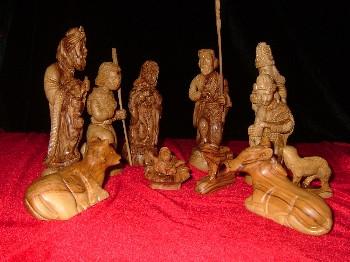 12 Piece Olive Wood Nativity Set
Regular price $156.25 Sale
A distinct gift from the Holy Land: Baby Jesus, Mary, Joseph, Magi, and Barn Animals. This set is handmade in the Holy city of Bethlehem. Not just a Christmas decoration, but a work of art.
This set has a high level of detailed carvings. The expressions on the faces are readable and the clothing hangs realistically off the figures.
Mary, Joseph, and the Magi, are all paying homage to Baby Jesus. These high detailed carvings are lovingly hand carved out of Olive Wood that is native to the Holy Land. Olive Wood has a rich beautiful natural dark grain that contrasts against the lighter color of the wood. The figures are free standing, allowing you to arrange them, however, is appropriate in your home.
Each set is unique and distinct. The figures are not molded. The scene is not prefabricated.
Every piece is carefully handcrafted and then hand assembled by a Christian Family in the Holy City of Bethlehem. No two Nativities are the same.
All the wood used is Olive Wood that is locally grown in orchards between the Holy Cities of Bethlehem and Jerusalem. Olive Trees do not grow from seeds: they are grafted, like vines. Some of Olive trees are hundreds of years old. The families of artisans that have been producing these carvings have been doing so for hundreds of years.
Most people cannot travel to the Holy Land. Let us bring the Holy Land to you. Grace your home with this special, high detailed set, a true piece of the Holy Land.



SKU: 20-201